Is there an upcoming event you're attending and hope to see me signing? Send me a message to me at Sheila@SheilaKell.com and let me know. I'll see if I can work it out. Know that many events book nearly a year in advance.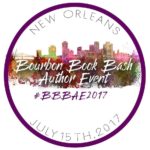 Bourbon Book Bash
July 15, 2017
Bourbon Orleans Hotel, New Orleans, LA
Tickets: https://www.eventbrite.ca/e/bourbon-book-bash-author-event-tickets-21670827027
Books in Bourbon Country
August 19, 2017
Galt House, Louisville, KY
Tickets: https://www.eventbrite.com/e/books-in-bourbon-country-author-event-2017-tickets-23530871470
*Note that, while not attending with me, the photographer for the HIS series covers – Eric Battershell – and the model for AJ's book, HIS CHOICE – Burton Hughes – will be in attendance at several events.
Disclaimer: While I make every attempt to attend a scheduled event, circumstances may occur that prevent it. In that instance,  preordered books will be shipped at the author expense.