The latest installment of Sheila Kell's best selling HIS series is here!
"HIS Chance keeps you on your toes til the very end, it contains high levels of suspense with heaps of romantic tension between Devon and Rylee." ~Helen M. on Goodreads, 5-stars
Devon Hamilton, the HIS eyes and ears, hasn't taken off his headset since joining his brothers. But, when Rylee Hawkins may be in trouble, the radio waves fall silent as he steps away from the command center and into the field. When danger comes knocking and the threat against Rylee becomes real, Devon gears up for a fight, and like their one hot night in Vegas, all bets are off.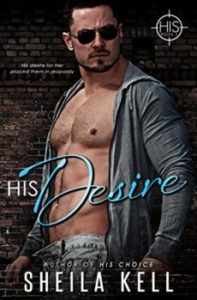 Start reading Sheila Kell's best-selling HIS series for FREE!
"This book is filled with plenty of twists, off the charts chemistry and will leave you on the edge of your seat while reading it." ~Escape Reality with Books
Jesse Hamilton, the head of a private security firm, falls for FBI agent Kate Ross—only to risk losing her forever. Sizzling heat meets nonstop suspense in this fast-paced romantic thriller!
Happy reading!