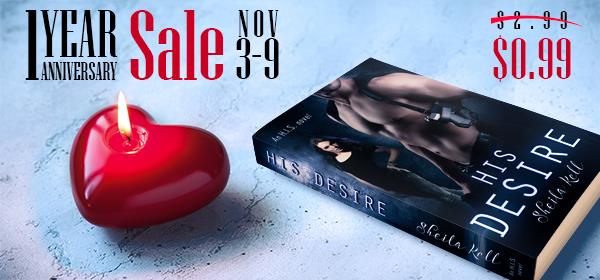 In honor of HIS DESIRE: An HIS Novel's one-year publiversary, all books in Sheila Kell's HIS series are on sale for 99¢/99p Nov 3-9!
Tour Organizer: https://www.facebook.com/hottreepromotions
Will Jesse Hamilton, head of Hamilton Investigation and Security, Inc, (HIS), keep reluctant FBI Special Agent Kate Ross safe when his past and his heart have placed them in jeopardy?
★★★★★ "A must read for lovers of romantic suspense. It was thrilling, suspenseful, chilling, emotional and extremely sexy." Escape Reality With Books
4.6 of 5 stars on Amazon.com and recent #1 Bestseller in Romantic Action & Adventure

"Good morning, Kate."
"Good morning, Mr. Hamilton." She forced a bleak, tight-lipped smile.
"So, we're back to Mr. Hamilton." He hadn't missed her obvious examination and approval. She couldn't completely hide it, even with her anger. There was definitely something between them. Something that had to be resolved. In the bedroom.
He knew she was a relationship kind of girl, so he would be upfront with her. There would be only sex, could be no relationship. His heart and soul had been ripped apart when he'd lost his wife. He refused to let himself get close to anyone because he wouldn't go through that again. Even Kate couldn't change that.
"On your way to the office?" He kept his voice calm, and his gaze steady. He had to break through the invisible barrier she'd erected between them.
Kate nodded. "Yes." She surprised him by asking, "You?"
"Me? I'm meeting with someone at the coffee shop."
She nodded and sipped her coffee.
A glint over her shoulder caught his eye. His smile faltered.
Tires screeched in the distance, and Jesse's heart clenched. He grabbed Kate's arms and pulled her to the ground just as the car neared and gunfire erupted.
Copyright © 2014 by Sheila Kell

HIS DESIRE: hyperurl.co/HISDesire
HIS CHOICE: hyperurl.co/HISChoice
HIS RETURN: pre-order coming soon

Giveaway: http://www.rafflecopter.com/rafl/display/ea80a6ed123/