I saw an article in a magazine about taking a metal file cabinet and making something to spice up your office. So I said, "what the heck, I think I can do that." I painted and used contact paper to create this. I found working with contact paper over a large area is not so easy. There are noticeable creases on one side. How did I fix that? Easy. That side goes against the wall :-).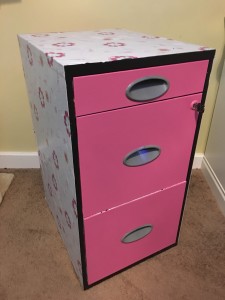 I've never considered myself the 'crafty' type, but I guess that I am. I just don't regularly craft things. I make things with my niece. We paint ceramics monthly. Many of those items are used as giveaways to my Street Team (Sheila originals) or as gifts to my family. Plus, I have many half-finished projects at home – embroidery. Most are gifts. I believe the bibs I planned for my niece's child will be ready for her baby's baby.
What type of crafts do you do? Do you find you have many unfinished projects?