Today is the final day of the HIS series 99¢/99p sale & giveaway
This past week newly edited files have been uploaded and new covers added. What more could you ask for at 99¢/99p? Now is the time to buy!
Meet the hot-bodied men of Hamilton Investigation & Security as they do whatever it takes to protect the women that have stolen their hearts in these stand-alone novels.
HIS DESIRE (Hamilton Investigation & Security: HIS Series Book 1)
His desire for her placed them in jeopardy.
"This book is filled with plenty of twists, off the charts chemistry and will leave you on the edge of your seat while reading it." Escape Reality with Books
When FBI Special Agent Kate Ross is injured in a drive-by shooting, Hamilton Investigation & Security (HIS) leader Jesse Hamilton, believing she is the target of a killer seeking revenge against him, pulls the full force of HIS into action to protect her.
Kate doesn't believe Jesse, the only man to make her seethe one minute and lust after him the next, when he approaches her with a note from the Facilitator stating someone he loves would die shortly, and he knows in his gut it's Kate. After a second attempt on her life, she can no longer fight his protection or her attraction to him.
After making a mistake that cost his wife her life, Jesse vowed never to love again, but Kate stirs something in him that puts his protective instincts into overdrive. Keeping her alive and out of his heart is more difficult than he expected. Then he makes a decision that could cost Kate her life. Is history due to repeat itself?
** HIS Desire is the 1st book in the HIS Series. Each book is a stand-alone, with no cliffhanger endings.
Paperbacks coming soon.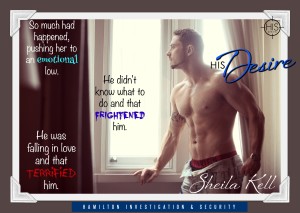 HIS CHOICE (Hamilton Investigation & Security: HIS Series Book 2)
Will the choice he makes mean certain death to the woman he promised to protect?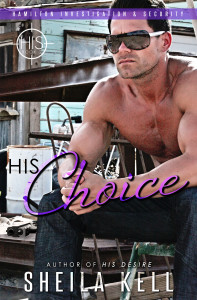 "Sheila Kell has created a stand alone entry that will have readers wanting more!" InD'tale Magazine
AJ Hamilton never expected his life to spiral so low. Tangled up with Baltimore's largest crime boss, The Magician, he is ordered to threaten a bothersome reporter. His attraction to Megan Rogers was as unexpected as was their heated encounter. AJ tries to warn her off. When she doesn't heed his advice, he's forced to protect her from herself. After witnessing something that puts their lives in danger, he kidnaps her.
When AJ saves Megan from the clutches of certain death, they must go on the run to stay alive. Tensions are high and their passions flare as they fight to stay one step ahead of The Magician. As they put their plan to expose him into action, AJ is forced to make a choice. But no matter the option he chooses, he may not be able to protect her or their hearts.
** HIS Choice is the 2nd book in the HIS Series. Each book is a stand-alone, with no cliffhanger endings.
Paperbacks coming soon.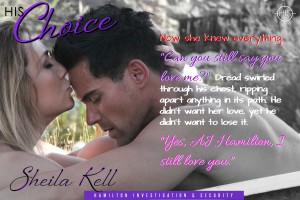 Sheila Kell writes smokin' hot romance and intrigue. She secretly laughs when her mother, in that stern voice, calls it "nasty." Her new HIS series has seen an Amazon #1 Bestseller and a Readers Choice Finalist. As a self-proclaimed caffeine addict nestled in north Mississippi with three cats, she wears her pajamas most of the day and writes about the romantic men who leave women's hearts pounding with a happily-ever-after built on a memorable, adrenaline pumping story. When she isn't writing, she can be found visiting her family, dreaming of an editor who agrees her work is perfect, or watching cartoons.
Sheila is a proud Romance Writers of America members. You can find out more on her website, Facebook and Twitter. Join her newsletter for VIP updates, contests, upcoming appearances and news!