Grab your copy of Jesse and Kate's story today.
HIS DESIRE
Hamilton Investigation & Security: HIS Series Book 1
His desire for her placed them in jeopardy.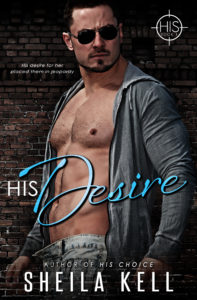 "This book is filled with plenty of twists, off the charts chemistry and will leave you on the edge of your seat while reading it." ~Escape Reality with Books
Meet the hot-bodied men of HIS as they do whatever it takes to protect the women who have stolen their hearts.
Hamilton Investigation & Security leader, Jesse Hamilton, swears never to love again. The pain of losing his heart is too much of a risk. Burying himself in work and caring for his daughter, he doesn't expect FBI Special Agent Kate Ross to threaten to break down his carefully constructed walls.
When Kate is injured in a drive-by shooting, Jesse pulls the full force of HIS into action to protect her. He's determined to not be the reason behind another senseless death.
Making a decision that could cost Kate her life, Jesse has to decide just how far he's willing to go to save the woman he loves.
**HIS DESIRE is the first book in the HIS Series. Each book can be read as a stand-alone, with no cliffhanger endings.
Books do not have to be read in order
HIS DESIRE (Jesse & Kate)
HIS CHOICE (AJ & Megan)
HIS RETURN (Jake & Emily)
HIS CHANCE (Devon & Rylee) Coming Feb 2017
HIS DESIRE
Amazon US  http://amzn.to/24EtsNi
Amazon UK  http://amzn.to/HisDesire-UK
Amazon AU  http://amzn.to/HisDesire-AU
Amazon CA http://amzn.to/HisDesire-CA
Add to Goodreads TBR  http://bit.ly/HisDesire-GR