Grab your copy at this incredibly low price.
Meet the hot-bodied men of Hamilton Investigation & Security (HIS) as they do whatever it takes to protect the women who have stolen their hearts.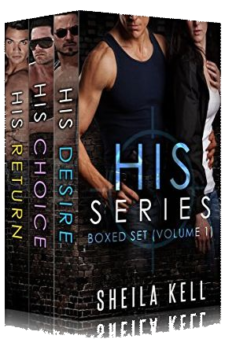 HIS Series Box Set, Volume I
"A must read" ~LBM Book Blog, 5-stars on Amazon
HIS DESIRE – Jesse Hamilton
Will his stubbornness prevent him from trusting the woman he desires? In HIS book one, a handsome security specialist and a feisty FBI agent are tied by grief and attraction… and the fervor of the unknown.
HIS CHOICE – AJ Hamilton
Will his choice mean certain death to the woman he promised to protect? In HIS book two, a smoking-hot enforcer and a determined reporter are destined to make choices that will change everything.
HIS RETURN – Jake Cavanaugh
Will the actions of his past prevent him from returning to the woman in his heart? In HIS book three, a wounded operative and a strong-willed accountant have to decide if the future can only be determined by the past.
If you like thrilling, edge of your seat reading with sizzling sex scenes, then you'll love each installment of Sheila Kell's best-selling series.
Pick up your copy of the HIS Series Box Set, Volume I, to meet the hot-bodied men of HIS today!
ℱℛℇℇ on Kindle Unlimited
Amazon US ➔ http://bit.ly/HISseries1-3-US
Amazon UK ➔ http://bit.ly/HISseries1-3-UK
Amazon AU ➔ http://bit.ly/HISseries1-3-AU
Amazon CA ➔ http://bit.ly/HISseries1-3-CA
Goodreads ➔ http://bit.ly/HISseries1-3-GReads