Genre: Romantic Suspense
Release Date: February 6, 2017
Designer: CT Cover Creations
Photographer: Eric Battershell
 PREORDER 99c SPECIAL 
Amazon US ➔ http://amzn.to/2CkYQua
Amazon UK ➔ http://amzn.to/2Csb5Tw
Amazon CA ➔ http://amzn.to/2DyuzoL
Amazon AU ➔ http://amzn.to/2ElFJ15
Goodreads ➔ http://bit.ly/HisFantasy-GR
From Romantic Suspense BEST-SELLING and AWARD-Winning Author • Can one man capture the heart of the one woman who walked away from him? In Sheila Kell's novel of conspiracies and desire, a fierce protector refuses to let go of the one complicated woman whose life he feels is threatened.
Brad Hamilton joins the family business after leaving the Secret Service in disgrace. When he fails to clear his name, anger resides in his world. But given a second chance to exonerate himself doesn't hold meaning until Madison Maxwell is at his side.
Madison had been Brad's fantasy for many years. When they finally connect for a night of passion, he could've died a happy man, except she left without a backward glance. When Madison returns to Baltimore, Brad sees his opportunity to rekindle a spark that's yet to fade. But when she witnesses a murder and receives threats, he'll stop at nothing to keep her safe. In his effort to protect her, Brad unwittingly brings danger to her doorstep.
Can Brad save Madison from two possible threats while separating his fantasy and reality?
His Fantasy is the eighth book in the HIS romantic suspense series. If you like thrilling, edge of your seat reading with sizzling sex scenes, then you'll love each installment of Sheila Kell's best-selling series.
Hamilton Investigation & Security: HIS series
Books do not have to be read in order, but you'll get the whole picture if you do!
HIS DESIRE (Jesse & Kate) FREE
HIS RETURN (Jake & Emily)
HIS CHANCE (Devon & Rylee)
HIS DESTINY (Trent & Kelly)
HIS FAMILY (Blake & Elizabeth) Novella
HIS HEART (Matt & Caitlyn)
HIS FANTASY (Brad & Madison)
Catch up with Sheila Kell's HIS series today while it's on sale!
All books are free or 99c! Limited time only.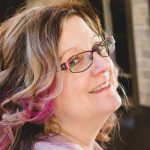 Sheila Kell writes smokin' hot romance and intrigue. She secretly laughs when her mother, in that stern voice, calls it "nasty." As a self-proclaimed caffeine addict nestled in north Mississippi with three cats, she wears her pajamas most of the day and writes about the romantic men who leave women's hearts pounding with a happily-ever-after built on a memorable, adrenaline pumping story. When she isn't writing, she can be found visiting her family, dreaming of an editor who agrees her work is perfect, or watching cartoons.
Sheila is a proud Romance Writers of America members. You can find out more on her website, Facebook and Twitter. Join her newsletter for VIP updates, contests, upcoming appearances and news!