It's time to #Preorder Deadly Betrayal, Coastal Investigations Book One, published with The Wild Rose Press, releasing 2/13/23.
Can't decide? Here a few advance reader reviews to help you make up your mind.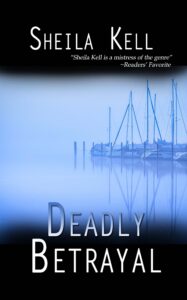 "OMG – This is a first in a new series and it is truely fantastic. It's full of intriguing characters that take you on a journey with plot twists that will keep you riveted."
"This story is sensational. It takes you on a action packed ride with some definite twists and turns you don't see coming."
"Deadly Betrayal (Coastal Investigations Book 1) by Sheila Kell is a keeper!! I loved this book from the first page! The characters are wonderful and you get caught up in their lives easily! If I could give it more than 5 stars I would!"
"Awesome book. So hard to put down. The characters are so real, I forgot they were not real people."
Preorder today!