When trusting the wrong person can be deadly.
From Romantic Suspense BEST-SELLING and AWARD-WINNING Author
What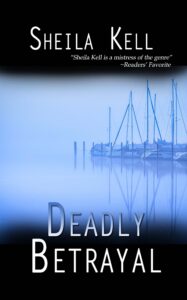 happens when a former FBI analyst quits her job to become a PI and ends up partnering with the man who left her fourteen years earlier? In Sheila Kell's riveting novel of secrets, deceit, and romance, two people rush to find a killer while reckoning with their growing attraction.
Cassie McKay was tired of being passed over as a FBI field agent. She quits her job as a FBI analyst, moved back home with her mother, and takes a job as a PI. Only she hadn't expected her partner to be the one man who'd left her years before.
Jack "JD" Walker had done a lot wrong in his life, but he hadn't killed the mother of his child as the police believed, nor had he expected the only women he'd ever loved to come to his rescue. The two work diligently to prove JD's innocence while someone is determined to make JD pay.
Deadly Betrayal is the first book in the Coastal Investigations series. If you enjoy a thrilling, edge-of-your-seat read, you'll love this installment of Sheila Kell's new romantic suspense series.
***
Books by Sheila Kell
Coastal Investigation Series
Read Between the Lines (late 2023)
Meet the men and women of Hamilton Investigation & Security: HIS
Books do not have to be read in order, but you'll get the whole picture if you do!
HIS Series
His Desire
His Choice
His Return
His Chance
His Destiny
His Family
His Heart
His Fantasy
A Hamilton Christmas
Agents of HIS Series
Evening Shadows
Midnight Escape
Afternoon Delight
Bayou Sunset (late 2023)