Hello fabulous readers,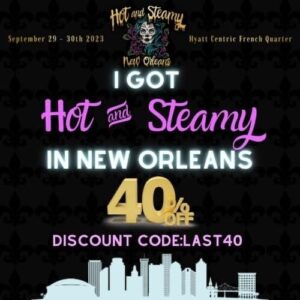 We're two weeks away from Hot & Steamy NOLA '23. Will you be there? If you haven't purchased your ticket yet, I have great news – the promoters are offering a 40% discount this week. Hurry, though, I'm not sure how long it will last. And, I recommend the VIP ticket! Not only do you get to tour with the authors with only 49 others, you get an awesome VIP bag. Yes, I have a couple things in there for you😉.
Also, if you'd like to volunteer, let me know, and I'll connect you with the promotion team.
I've been busy making SWAG for you for the event – keyrings, lip balm holders with peppermint lip balm, phone screen wipes, plus I always have pens and post-its and candy. Here are a few samples of what will be on my table – PLUS, every purchase receives a tote bag plus another SWAG pack that is book specific (until supplies last).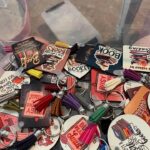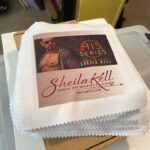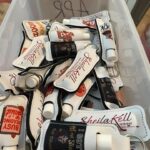 Here is the agenda for the event:
Fri, Sep 29 – Coffee & Beignets 6:00-7:30 PM (Come meet your favorite authors!)
Fri, Sep 29 – Scavenger Hunt, New Orleans style 8:00-9:30 PM (I'll be leading a team – hoping we won't get lost 😂)
Sat, Sep 30 – VIP Signing 11:00 AM -1:00 PM (The authors and only 50 VIP members)
Sat, Sep 30 – General Admission 1:30-4:30 PM
Sat, Sep 30 – After Party – VooDoo Bayou Theme 8:00-11:00 PM (Costumes are welcome, but not mandatory, but I have mine!)
The event will take place at the Hyatt Centric French Quarter, 800 Iberville St, New Orleans, LA. Stop by my table and tell me you read this blog post, and I might have something special for you!
I look forward to seeing you there!